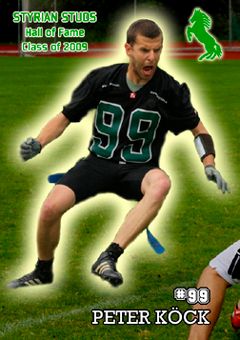 Peter Köck, der Ende 2009 seinen Rücktritt vom aktiven Sport verkündete, wurde die Ehre zu Teil als erste Person in die "Studs Hall of Fame" aufgenommen zu werden. Als langjähriger Vizeobmann trug er ebenso zum Erfolg des Vereins bei wie auch als Spieler und emotionaler Leader der Defense. Er führte 2008 die Liga mit 16 Sacks an.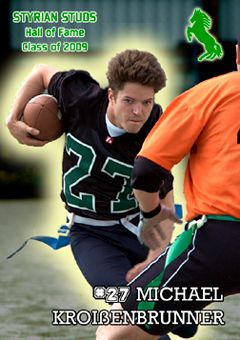 Michael Kroißenbrunner wurde für seine unglaubliche Explosivität am Feld und seiner Arbeit für den Verein (Gründungsmitglied, Vorstandsmitglied) ebenfalls in die Hall of Fame eingeführt. Seit einer schweren Knieverletzung 2006 (zu diesem Zeitpunkt führte er überlegen die Scorerwertung der Liga an) kam er nur noch zu sehr sprodischen Einsätzen.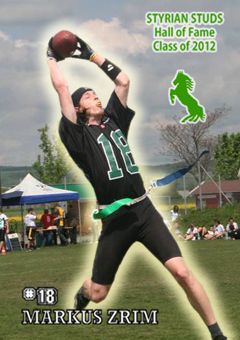 Markus Zrim wurde nach seinem Rücktritt 2012 als dritter Spieler in die Studs Hall of Fame aufgenommen. In den ersten Jahren war Zrim einer der Topscorer der gesamten Liga ehe er später vermehrt in der Defense zu finden war. Wie Köck und Kroißenbrunner ist auch Zrim langjähriges Vorstandsmitglied der Studs.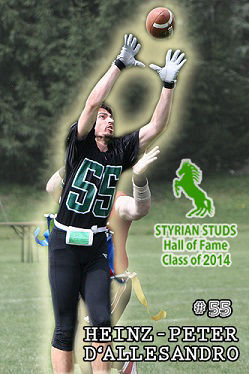 Heinz-Peter D'Alessandro-Hölbling war einer der Gründer und ersten Vorstandsmitglieder der Studs. Als Presseverantwortlicher trug er sehr viel zur Verbreitung des Sports, aber auch zur Bekanntheit der Studs bei. Als Safety gelang ihm als zweiter Spieler die Marke von 50 Interceptions zu überspringen. Durch seine körperbetonte Spielweise war er ein Fels in der Studs-Defense Brandung.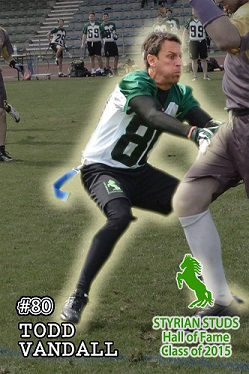 Todd Vandall war jahrelang das Herz, die Seele und der emotionale Leader der Studs-Defense. Mit seinem Einsatz und Spielverständnis gelang es ihm auch gegen jüngere und schnellere Spieler zu brillieren. Er war ein Vorbild für alle Defense Spieler und wurde 2008 zum Studs MVP gewählt. Bis zum heutigen Tag führt er die Allzeit Interception Liste der Studs an.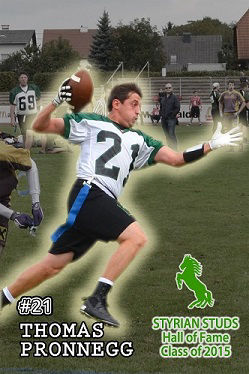 Thomas Pronnegg war jahrelang ein Fixpunkt der Studs Offense und konnte neben seinen spielerischen Qualitäten vor allem durch seinen großartigen Einsatz und sein blindes Spielverständnis mit QB Philipp Pölzl überzeugen. Auch als Blitzer wurde er immer wieder eingesetzt. Er wurde 2009 und 2013 zum Studs MVP gewählt und erzielte in seiner Karriere mehr als 1000 Punkte. Neben seinen Erfolgen mit den Studs konnte er 2012 mit dem Nationalteam den Weltmeistertitel erringen.